A newly discovered cache of letters by the On the Road writer shows him drunk on romance – and honing his literary skills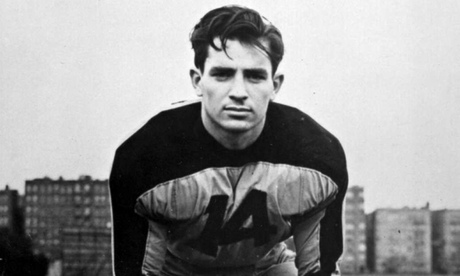 "I shall worship her with quiet dignity. I shall draw her attention to me by exploits, success, and possibly a small measure of fame," wrote a young, romantically inclined Jack Kerouac to a friend in one of a cache of letters by the Beat author that has come to light.
The 17 complete letters, two postcards and seven substantial fragments by the author of On the Road were found by the daughter of George J Apostolos after his death. Apostolos was a childhood friend of Kerouac's from Lowell, Massachusetts. The author wrote to Apostolos from Horace Mann, the New York City prep school to which he had won a football scholarship, and from Columbia University, largely between 1940 and 1941, when he would have been in his late teens. The letters were written on a typewriter and run for up to five pages of single-spaced, dense type.
According to auction house Skinner, which will put the cache up for auction this autumn, they show Kerouac in the process of "becoming Kerouac". In one letter written from Columbia in the spring of 1941, the teenager tells his friend: "I'm planning to bum home one of these weekends, and to return almost immediately. Just a Saturday and Sunday in Lowell. It always appeals to me," he writes, adding in red ink: "because that is where the road began."
More